Today we're highlighting the importance of public speaking on your career advancement. Let's talk about four reasons to get over your fears of public speaking and get on stage so you can use the power of public speaking to advance your career.
The Career Rx podcast is all about modern strategies for advancing your career and public speaking is no exception with so many benefits.
In This Episode of The Career Rx We'll Discuss:
The overall importance of public speaking for your career advancement.

4 main benefits of public speaking and the significance strong public speaking skills can have on your future career opportunities.

Different types of public speaking jobs you have the opportunity to try.
SUBSCRIBE TO THE CAREER RX PODCAST:
Want to get access to the latest podcast? Subscribe on your preferred podcast player…
Apple Podcast | Google Podcast | Spotify | TuneIn + Alexa | iHeart Radio
TRANSCRIPT AND SHOW NOTES
(
The Importance of Public Speaking for Career Advancement)
I'm going to plant my flag confidently here… I really do think that public speaking is the number one most important thing you can do to advance your career.
It's been an absolute game-changer for me on a variety of levels, both financially as well as getting expert recognition and different opportunities.
Public speaking has also provided huge benefits for many of my students.
The other great benefit of public speaking is it's learnable and coachable. If you're thinking right now that you're not that good fit, I urge you to listen all the way to the end of this episode. Then decide whether or not you really think you can't do it or you don't want to do it.
I believe it's worth the investment to improve your public speaking skills and understand how to find more opportunities to practice and deliver.
To know your strengths and to pursue and build your career around what you're good at instead of trying to beat yourself up over what maybe you're not that good at.
There are many ways to be good at speaking and there's more than one definition of what it means to be a speaker.
Public speaking has been on my mind a lot lately for a variety of reasons, but one of them is that I am in the midst of teaching my 12 week course that I do every year called The Speaking Rx.
Some of my students are women surgeons so they are not necessarily professional speakers, but speaking is an important part of professional visibility and success in medicine for physicians.
Many are getting major insights around their career, professional branding, the way they communicate, come across and position themselves. They're having these aha moments.
Others are getting actual opportunities for practice and for visibility and some are getting paid public speaking engagements for the first time. So, I absolutely love seeing these real results!
The Importance of Public Speaking for Your Career Advancement: 4 Benefits
I think that speaking is the number one way to advance professionally. It sets you apart and helps to progress your career regardless of your goals or career setting.
There are huge benefits of public speaking for physicians who are:
In private practice

In academics

Looking to have a successful side gig

Focusing on non-clinical medicine

Thinking of leaving medicine and do something completely different.
It also doesn't matter you're not a physician at all. This will still apply to you.
Regardless of your career goals, having strong public speaking skills really sets you apart.
The Importance of Public Speaking for Your Career Development
1. Public Speaking Engagements are Memorable
Public speaking is so much more memorable than writing.

Think about it, when you attend an event – either in person or live streamed someone you've watched in a public speaking engagement stands out above the rest of the content.
When you think about all of the materials you look at in a meeting and the various sessions you've attended, it's usually something that was spoken word that stands out – that's more memorable.
This is important because the next time you want to reference information about that topic, you're likely to go look for a specific speaker.
It's easy to remember a speaker that inspired or motivated you.
This is really important for professional development as this showcases your expertise and positions you as a subject matter expert. When you add public speaking into your communication this makes you more memorable. Memorable to others who can make a positive impact on your career.
Whether it's a workshop, a webinar, a podium presentation, it's truly impactful.
You probably remember over the course of your career, a presentation you attended where someone taught you something of great value. The importance of public speaking is extremely beneficial for the advancement of your work.
Whatever you're doing in terms of research, advocacy or the way you spend the hours in your day, if you're going to write or communicate about that important work you've got to make speaking part of this as that's what other people will remember.
They'll remember it for themselves and they'll be able to remember you and find you again when they want to recommend your work to someone else.
The Importance of Public Speaking for Your Private Practice
What I've discussed is an academic advancement view, however, if you're in private practice, public speaking can be just as important to your marketing strategy.
It can help you build your customer base by getting the word out there that you are an expert.
When people come to your website, whether you're an academic or not, they are going to have an additional layer of confidence that you are the doctor for them.
Seeing that you have written and presented and have some mastery of the material builds trust.
The importance of public speaking to your overall communication strategy will help you establish that expertise and grow your private practice.
Also, if you are physically in practice it's extraordinarily helpful to get new customers, patients and clients by public speaking in the community.
–
If you can get comfortable in any one of these delivery methods, whether it's academics, it's private practice, to grow a side gig or non-medical work, the same principles will apply.
2. Public Speaking is Self Sustaining
Unlike pretty much everything else that you do, speaking is somewhat self-sustaining.
What do I mean by this?
If you're giving a talk at a major venue, it's extraordinarily likely that at the end of your presentation, people in the audience are going to want to come up and talk to you. They'll want to have their questions answered, but many will want to know how you can speak at their institution.
It may be next year or several months away, but the seed is planted and they may come back to you later. I can't think of a single time in my career that I've given a presentation (except at my own academic institution in its own department) where at the end someone didn't reach out and say, "Hey, would you be willing to come in and give a presentation?"
Very often it's multiple people that do that and of course the bigger the stage, the more likely you get asked to speak at even bigger subsequent events.
Sometimes you receive immediate requests from someone who was in the audience, but I'm telling you there is something so self-sustaining about giving a presentation and the aftermath of people connecting with you right away.
Tip to Ensure You Maximize Your Connections after you Speak…
Make it easy for them to contact you through email and social media. Communicate your contact details at the end of your presentation or speaking engagement.
This is extremely important to secure subsequent public speaking opportunities.
The Benefit of Public Speaking Vs. Other Content Creation
You may write an article that goes viral or your article gets an enormous amount of attention in the issue in which it's published. However this type of content can still have a pretty short shelf life – sometimes just days, weeks or months.
Written content doesn't have that same type of self-sustaining further work.
Example: Think of someone who's completed three years of research. This can culminate into one paper, but that same amount of work can create dozens (if not more) or speaking opportunities!
Public speaking can give your research or content a much longer of a shelf life.
The importance of public speaking also goes beyond new speaking engagements – it also adds great value to your CV.
Public speaking allows you to:
Create new opportunities to meet new people.

Network more broadly.

Maximize awareness of your work and create more learning opportunities for others.

Develop your reputation as an expert. This is how you get your academic promotion. By demonstrating that you've got a bigger reputation, which is regional, national, or perhaps international.
All of this helps you get promoted, recruited and helps you find your next job opportunity.
3. Public Speaking is a Transferable Skill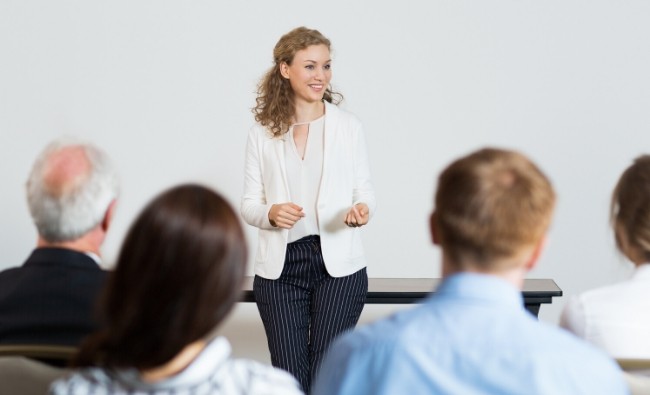 There is really no more desirable transferable skill than public speaking.
Public speaking is a transferable skill for those who have successful side gigs, want to do something in administration and non-clinical medicine.
A heartbreaking number of physicians say to me, "I don't know how to do anything else. I'm just a doctor". That's a story for another day where we could really break down that, but I hear it so often.
The fact of the matter is you have a LOT of skills and if public speaking is one of them, then you have one of the most desirable skills across a whole variety of industries.
Any number of career paths you want to take, having strong public speaking skills will absolutely help you.
The benefits of public speaking are enormous – helping you…
Get your foot in the door for new career opportunities.

Acquire new customers and clients.

Position yourself as a thought leader in any industry.
When people talk about communication skills, they want transferable skills – leadership skills, productivity skills, development skills, communication skills.
When somebody says excellent communication skills, they don't mean can you type a decent email! What they really mean is…
C

an you get up in a crowd?

Can you represent in a boardroom?

Are you an impressive public speaker on stage?

Can you effectively present your products, services and your company?

Can you represent your department within your larger organization in a way that is compelling?
This is what leadership is and why public speaking is important for leaders.
Also, this is what all administrators need to do to successfully navigate across the hospital system and the healthcare system, which is just as important across other industries.
Giving a pitch, a delivered presentation or a debrief is very important in any industry.
This type of public speaking is just ingrained in the kinds of daily activities people do as a profession.
Having the ability to be a quality public speaker and to facilitate a workshop, give a webinar, deliver a video or podcast is a skill that's applicable to every business.
This in particular was one of the key reasons I believe I was able to transition into a non-clinical medical director role.
I also think my online presence showcasing my public speaking skills also helped tremendously – my blog, written articles, Facebook videos, YouTube.
This is the kind of content people find when they're looking for an expert in a specific subject area. Or it's what they come across when they Google me. They get to know me and my delivery style with my online content.
Related: The Fastest Way for Doctors to Build a Stellar Online Presence
If people like what they see, then it's very low risk for them to reach out to work with me in some way. Either to hire me to speak, to take one of my courses, attend one of my retreat events or just even offer me a job.
So, this is another huge benefit of public speaking. It is the most desirable transferable skill.
4. Public Speaking Comes in Many Different Forms
So the fourth reason I think public speaking is an absolute game-changer is that it takes on many different forms and one of them is pretty likely to be right for.
In medicine, we often think very much about academics. We think about Grand Rounds or giving a workshop at a conference, but the reality is that there are a lot of bigger opportunities.
Let's look at the different types of public speaking jobs you can be a part of:
Keynote Presentations
Typically for keynote presentations, someone invites you, rather than you applying and hoping you get accepted.
CME Opportunities
There are other CME opportunities outside of academic Ground Rounds.
Most CME is delivered outside of the large events as not everyone can be off at the same time to go to these huge meetings. So there is a huge industry for CME and it is all, of course, academic in nature. It's also smaller perhaps in less desirable parts of the country that don't have as many people living there.
These kinds of opportunities will actually pay really well for good CME speakers because they want to be able to attract an audience to their event. It's also a really good opportunity to stay in that academic or clinical practice focus if that's your thing.
It's just like Grand Rounds or regular Congress except that it's at a place perhaps not quite so big or well known.
Professional Development Workshops
One thing that a lot of people don't think about are professional development workshops. Almost without exception, the doctors I have worked with have two topics at the same time. They have something that's deeply scientific and then have what they will often downgrade and say is a softer skill that they like to speak about.
Some hot topics these days… productivity resilience, grit, burnout, gender equity. I could go on, These topics are really important to organizations and they pay handsomely for external experts to come in and do workshops for their faculty.
If you've ever been to a faculty retreat or something where there's been an external speaker with that type of content, you can rest assured that person was paid.
Even if they weren't paid, if what you want to do for a living is to advance that message and advance that science it doesn't really matter. We talk about this in my course The Speaking Rx, in my view, there's a lot of different ways of getting paid.
It could be that you're setting yourself up as an expert to get promoted for the next opportunity that will be paid. It might be that you're getting an actual paycheck, that your organization protects your time so that you can go do that kind of work.
Be a Spokesperson
You could be a spokesperson for an organization, for media for a nonprofit.
This usually doesn't cross people's minds and there aren't tons of roles like this for everyone to be on TV or to be a media spokesperson.
However, especially if you're connected with the right organization that is meaningful to you, it's really important work and can be really fun. It's also a great way to increase your professional visibility and your reputation as an expert and potentially your income.
Industry Education
There are also industry-sponsored opportunities.
Not everybody is into this idea, but there are many opportunities within industry for medical devices, pharmaceuticals, etc where they need physicians to do some of the education and even some of the marketing.
You can effectively be a spokesperson getting paid to deliver content that is internally created. Content that is created by that organization. It is approved by them and within the rules and compliance required by the FDA and other regulatory bodies.
If you enjoy giving presentations and connecting with the audience, then you can rest assured that what's in the deck has been very rigorously vetted to meet the standards of the FDA and other regulatory bodies.
So although it's not really your opinion or your work per se you can ensure it's consistent with your subject matter expertise.
It's a great way to establish your expertise and that someone would seek you out to speak on their behalf. They're really well known in this area. So this is an important benefit of public speaking for industry-sponsored events and again, an important opportunity to make money.
Related: 8 Pro Tips for Virtual Meetings, Presentations & Webinars – Ep. 21
Virtual Education
Virtual education is a huge growing billion-dollar industry and it is all over the place. Let's take a look at the different types of public speaking jobs you can find through virtual education.
Webinars:
This is a really great opportunity, as you can create, develop and disseminate your own webinars. Or you can be a speaker on someone else's webinars.
You can participate in virtual education on both ends of the spectrum of entrepreneurial ship. You can create your own or you can just seek out opportunities to be on someone else's webinar.
This gives you that bigger visibility and a greater reach than from one podium to a handful of chairs in the room.
Participating in webinars also gives you additional assets to call out on your resume and your website.
Again, in that self-sustaining way, if you deliver a killer webinar, someone is going to ask you to be a guest on a different webinar or to speak live. So, webinars can also be self-sustaining.
Online Courses:
The other part of virtual education is online courses. I have several of my students who have created their own online courses which are quite successful.
Creating an online course has changed their ability to communicate important messages, establish themselves as experts and to earn money.
–
I personally love connecting with people this way, but even if you don't love it, it's still worthwhile to see whether you might like one of these options listed above.
There are different skills requirements. Some public speaking opportunities require travel and some just computers, but there are many different ways to harness speaking in your career advancement.
A quick note of caution before we wrap up…
We talk about this in detail in The Speaking Rx – not every opportunity that you get will pay.
Very often the speaking engagements that pay the most are the ones that seem the most obscure or have the least amount of academic value. So, sometimes there's a trade-off to be had.
Also note: Whether you realize it or not, there are sometimes contracts or rules through your current employer/partners that represent a conflict of interest. It might prevent you from being able to accept money. Or it might require that money to get paid to your organization rather than to you as an individual.
Either way, even if you can't accept money or you can only accept the money on behalf of your institution, there's a way to make sure that you can pursue these opportunities for your career advancement.
Recap: The Importance of Public Speaking for Your Career Advancement
Public speaking is absolutely the number one career accelerator, in my opinion.
Whether you want to increase your professional visibility, develop your reputation as an expert, or create another income stream, the importance of public speaking on your career growth is a powerful tool to have.
I strongly recommend giving some thought to whether or not one or more of these could be right for you. You can improve your public speaking skills as they are straight forward to learn.
Public speaking is something that almost everyone is terrified of at first and that a lot of people remain terrified of, but it's something you can still learn to do and do well. If you learn to do it well, it can open doors that would otherwise stay closed.
–
Thanks for joining me on this episode of The Career Rx!
Please be sure to subscribe and leave me a review on Apple Podcast, Google Podcast or whatever podcast player you're using to listen today. Also, be sure to send me your questions so I can answer them and give you a shout out on a future episode.
Bye for now,
Marjorie
Related Public Speaking Articles: