If you want to succeed, and take the fast track, you absolutely must find and leverage sponsors for your career development. This is a hot topic for women in medicine, and it is no less applicable in business or for men.
WHAT is a sponsor? A sponsor is your spokesperson. Sponsors invest internal political and social capital to advance your career.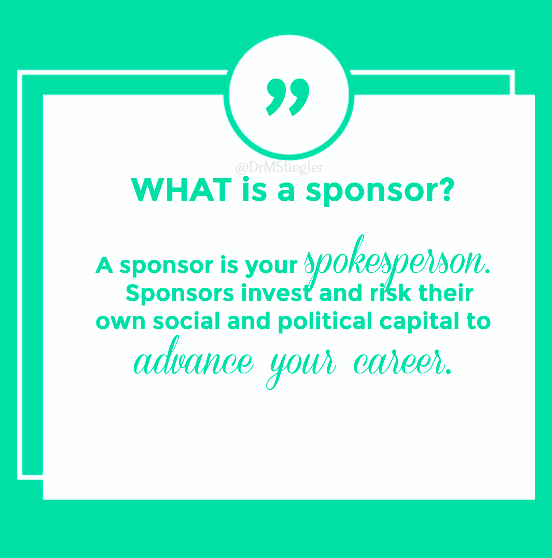 WHY would a sponsor do that? Trust. The sponsor must trust that you will make the most of the opportunities and opened doors. Make your value visible, and always deliver. Let them see you in action and have confidence in your talents and your integrity.
WHEN should you be seeking sponsorship? All the time, because trust takes time to develop. Do not wait to establish sponsorship relationships. If you need a new job or are up for promotion, it's too late. Always be looking, and always be 'sponsor-ready' when someone takes notice of your work.
WHO should you get to sponsor you? Sponsors don't get 'assigned' the way mentors do. However, you can take an active role. Identify great potential sponsors by taking notice of the leaders around you. Who gives praise to others? Who throws their subordinates under the bus, and who backs up those who give their best even when things don't work out? Who makes a tangible effort to develop talent?
HOW do you actually get a sponsor? As has been mentioned, you can't really choose sponsor – the must choose you. But you can still be proactive. Seek out meetings. Ask for introductions. Be ready with your clear elevator pitch, and clearly convey the synergy between your potential and your intended sponsor's opportunities and needs. Then follow up. Stay in touch. Make your work and accomplishments and aspirations known. Nurture the sponsor and help the relationship develop.
WHERE should you look for a sponsor? In more than one place. In your department or organization, and in other domains. It is critical to have a variety of perspectives and paths to pursue.
Have a different take? I'd love to hear from you. Tweet me or email me your thoughts, and I'll incorporate them into this post (with credit to you, of course!).